Recognising the trend to 'cross-over 'conservatories, Ultraframe has introduced a new life style room that will definitely capture consumers imagination.

Conservatories have always been an excellent way for consumers to blur the margin between home and garden, but Ultraframe is taking the idea to a new level with its Veranda conservatory. The glazing bars in the roof oversail and carry the glass with it, to form a protected pocket where the consumer can sit in the garden but be protected from the worst of the elements.

Moreover, on a warm day - by using large in line sliders or bi-folds – the consumer then has a much bigger space to enjoy, perfect for families!!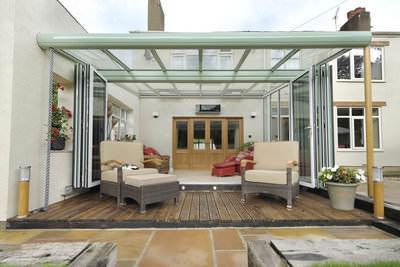 The Veranda conservatory looks stunning when foiled in one of a series of standard colours, in this case Sage Green. Colour options can be selected internally or externally, which again helps with the positioning of Veranda as something altogether new.
Externally, the aluminium powder coated half round beam provides structural support to the over sailing glazing and glazing bars – but it also acts as an integral gutter. This beam/integral gutter then features stop end spigots that seal the gutter at one end and are then 'spliced' onto an oak post to support the open side of the Veranda conservatory. At the design stage, aluminium down pipes can be selected or the rain water can be directed down hanging chains, again further integrating the 'room outside' into the garden.

Retailers have the option to choose the recently introduced classic roof system.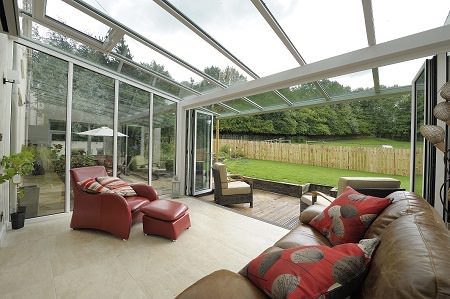 When selling and promoting Veranda, retailers can be more innovative with the side walls – one side can be a masonry wall and the other glazed or, both walls can be masonry. The options are wide open and it's this that also helps to reposition Veranda as something completely different.
Mathew Glover MD of Conservatory Outlet, one of the fastest growing retail chains in the country saw Ultraframe's Veranda at last years Glassex and just had to have one. Says Matthew," When I walked on to Ultraframe's stand at Glassex last year I just knew I had to have a Veranda. The existing foiled conservatory I had on my home looked tired and I had already changed my windows for cream PVC ones which looked stunning. It's fair to say that my wife and family love the new Veranda, and the addition of the full width doors improves access to the garden and at the same time integrates it more into the home".